Fireblade Mods
---
Hi All,

My name is Jonathan, and I live in a small town by the sea in Essex. I own a 1996 CBR RRT. Last June my wife brought me a fantastic track day at snetterton race way. It all went well until the last out and I came off. When I got home I looked at what was a mint blade and decided to get her back to mint but make a few changes.

I love the front end and have no plans to change anything except the color, but after having a little scout about, I found a swing arm from a VFR 750 and snapped it up. Its yet to go in but its there and waiting.

What I have done so far is to change out the sub-frame and seat unit for a 06 R1 Jobie. I am fitting R1 exhausts and a bloke I know is going to baffle them to suit my Blade.

It might not be everyones cup of tea but I think it has sharpened it right up. Still lots to do but I have all winter to do it.

When I figure out how to put a photo on the site I will upload something for you to take a look at. Still needs a lot of work done on it bet its taking shape.

Thanks for taking time to read this.

Regards,

Jonathan.
---
White Socks Essex Boy
Since my last post I have fitted a VFR 750 swing arm and a Kawasaki ZXR 600 front fender.
I have had to make a one off tank protector to close the gap between the R1 seat and the Blade tank because I don't like things that look cobbled together.
I have made a bunch of other stuff for the same reasons, and the bike is starting to look like a runner once more.
I have set in two recesses into the tank as I am going to fit the tank badges from a 2008 blade for no other reason than they look cool.
I hope you like what I've done so far and if you want to see more then log on to Aussie Street fighters / my ride / CBRRRT and take a look at what and how I did.
Alternatively click on the link below
http://www.streetfighters.com.au/for...TOPIC_ID=12308
Happy days
Regards
CBRRRT
---
White Socks Essex Boy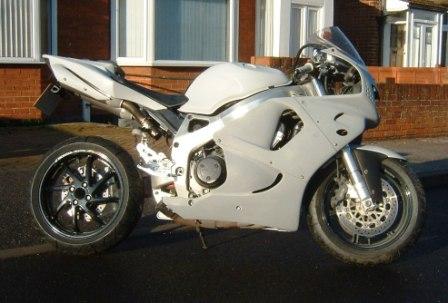 [br][/IMG]
---
White Socks Essex Boy
---
Last edited by CBRRRT; 12-12-2008 at

10:20 AM

.
eWorldChamp
Join Date: Jan 2004
Location: Germany
Posts: 5,754
Did you change out the front end too? Looks like a 17" front hoop.
---
How much is the fish?
Looks sweet now you just need to get it painted. How does the bike handle with the new single sided swing arm?
Quote: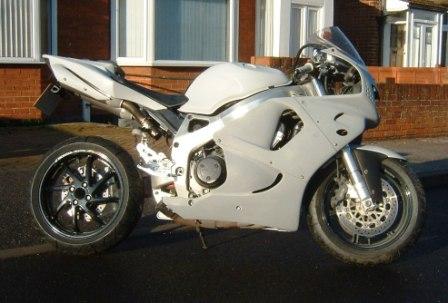 [br][/IMG]
Dont think your gonna go much on this, but I had a bit of a rethink and went a bit daft with my hacksaw
1996VFR 750 Single sided swing arm
Honda Civic rear car wheel with fireblade and relentless decals
5VY Yamaha R1 sub-frame and seat fairing
5VY Yamaha R1 underseat exhaust re-baffeled (race)
Tank modified to suit seat and seat fairing
Tank modified to take Honda Civic wheel centres
Top yoke modified to take risesr and flat bars
Chopper aluminium grips
Nobukura racing adjustable rearsets
Billet front break res
Venhill steel braided break lines (front and rear)
Rear break line taken through SSSA
Kawasaki 600 front fender
Preditor front fairing with internals by owner
Mercedies ruby red metalic paint
Loads of one off brackets made by owner
Relentless oil filter cover
Relentless rear shock cover
Relentless rear break res shot cover
Four pissed midgets pushing the pistons up and down really fast
Rear wheel centre spike by owner
Crank case breather kit
All electrix by owner
CBR RRT exhaust headers converted to suit 5VY end cans
---
White Socks Essex Boy
other than the headlight... looks like a blast.

I still think the Buell XB headlight would look cool on a street fighter
---
How much is the fish?
eWorld Champ
Join Date: May 2003
Location: Florida
Posts: 5,621
Quote:
Dont think your gonna go much on this, but I had a bit of a rethink and went a bit daft with my hacksaw
I'd say that about sums it up.
That said, I can certainly appreciate the creativity and the work involved.